ABOUT SCIENTIFIC LIBRARY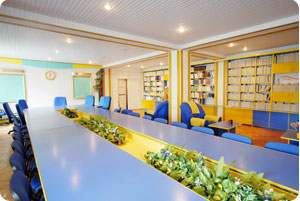 Scientific Library of Baku State University is one of the main libraries among high school libraries.Scientific Library is one of the division of Baku State University by its structure. Scientific Library acts by the law "About the work of Library" of Azerbaijan Republic and orders and instructions of Baku State University.Scientific Library situates in three education buildings.This rich fund is not only used by over 19 users of BSU and is used other users of different universities and research institutes .5 lending libraries, 14 reading halls and 30 libraries which are in the faculties are at disposal of users..The main purpose of the library is to service its readers and inform its users ongoing information. The fund of the library consists of 2,5 million of copies. Valued books of the fund consists of mainly rare books.
According to the order of 1999 year (№171) of Educatin Ministry in 2000 year the laboratory began functioning under the leadership of prof.A.Khalafov. The main purpose of the laboratory is implementation modern technology to the library.
In 2001 year electron catalog was created at the library andbegan functioning. From this year the library began to service itsusers not only with the literature in print version at the same time in electron version.
According to the article of the law of !999of Azerbaijan Republic "About the work of library" library gets two obligatory copies on the profile of university, transfer copies, foreign literature, books presented different personals and complete its fund.The library doesn't have connections only the universities and research institutes in its country but has connections with 49 universities and research institutes of 21 foreign countries.
Within the frameproject of American Library Association, Azrebaijan Library Development Association and Scientific Library of BSU the library got access to "Hinary" database,"Ariel" program and many books according tothe university profile.
Azerbaijan Library and Information Consortium was created in December, 2003.The project is funded by Open Society Institute.Through this project got access to EBSCO databases online(over 7000 titles) and su b-sets in CD/DVD format
Menu of journals and databases over 2.300 titles in total by:
İOP Publishing
Cambridge journals
American Psychological Association
ProQuest
Muse
Wolters Kluwer
Willey-Blackwell
Oxford Reference Online
Scientific Library of BSU is the methodological center among the high   schools in Azerbaijan Republic. The library is the big center of scientific information and culture.
Scientific Library of BSU is the member of Commision of Central Methodological Library, Azrebaijan library Development Association and Assembly of Euroasian Librarianship.