Shahla I.Huseynova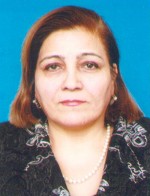 Candidate of philology, chief department, BSU Scientific library
Work phone: + (994) 439 06 21
PERSONAL DATA
Was born in 1957, on the 8th of May in OR Nakchvan in the district Sharur in the village Upper Yaychi.
In 1964- 1974 studied at school in Gumushlu.
EDUCATION AND ACADEMIC DEGREES OBTAINED
2007- "Modern Azerbaijan literature" department, philological faculty, BSU
1978-1983 a student, library science faculty, BSU
COMPLETE PROFESSIONAL BACKGROUND
2008- chief of department,  science library, BSU
1995- 2008, chief department, library science, BSU
1984-1995, senior librarian, BSU
1979-1984, librarian BSU
LIST OF SELECTED PUBLICATIONS
Й.Ахyндлuis М.С.Ордuбaдis tireless investigatior //News of Baku University, 2008, #4, p.
Modernity and historism in М.С.Ордyбadи's novels // Language and Literature, Б., 2008, №2(62), p.159-161
Described personalities and historic epochin the novel "Sword and pen" // Scientific research, 2005, #XV, p.7-11
The attraction of the social-political time of the subject and composition in the historical novel " Sword and pen" // // Scientific research, 2005, #XIV , p.251-258
М.С.Ордубади and literary critism // Philological problems, 2004, №2,p.35-39
Низами in the characteristic symbol of the "Pen and Sword" // News of Baku University, 2004, #4, p.131-136